PartWerx Automotive - Outstanding Quality and Exceptional Service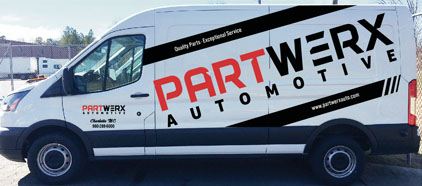 PartWerx Automotive carries the best quality aftermarket auto body parts available at a competitive price with unmatched service. We serve auto body collision repair shops in Raleigh, Garner, Clayton, Durham, Charlotte, Concord, Shelby, Gastonia, Salisbury, Kannapolis, Harrisburg, Lincolnton, Denver, Mooresville, Monroe, Albemarle and surrounding areas of North Carolina, as well as the Fort Mill and Rock Hill areas of South Carolina.
When it comes to auto body parts, you won't find a distributor with a stronger focus on outstanding service than PartWerx Automotive. We understand the collision repair business and we know consumers want to have their car fixed as quickly as possible without any sacrifice to safety or security. When collision repair centers and auto body shops choose us, they can be sure that we will work with them to meet and exceed their customers' expectations.
PartWerx Automotive was established in 2017 to serve a strong need that we saw for a quality provider of aftermarket auto body parts that also provided exceptional service in the Garner area. We are proud to have our headquarters in Garner. We don't want to be the biggest distributor of auto body parts, we just want to be the best.
Whether you are a multi-shop operator or a local body shop, when you call on us you can be sure that we will be ready to serve your needs and quick to respond. We pride ourselves on our responsiveness and our service. That's why our motto is "Outstanding Quality - Exceptional Service."
Let us show you how great it is to work with PartWerx Automotive - contact us by phone at 919-867-5105 or send us an email.
Collision shop owners can create an account and buy auto body parts from us using our online store. Look through our inventory of parts, find the part you need, purchase it and have it delivered directly to you. Please call us to set up an online account at 980-288-6000. If you already have an account, you can search for parts.